Some months back I wrote a lengthy post laying out my objections to parametric theory. This past Saturday, the fascinating Isaiah McPeak of Ethos Publications (makers of the Ethos sourcebook) posted a response defending parametric theory and offering some additional advice on topical counterplans. This is my response to his response.
This is an ongoing discussion, so you'll want to read my original parametrics post and Isaiah's response before diving into this post.
Missing the point: The failure of the standard argument
In his response, Isaiah goes to great lengths to explain exactly why affirming the resolution does not require affirming every possible example of the resolution. He concludes by stating:
As you argue later, "All three frameworks discussed so far have been based off of the assumption that voting for the entire resolution endorses every possible plan." Since I have challenged this assumption, the rest of your arguments kind of fall.
I must admit that I'm somewhat puzzled by this, because he's making the exact same argument I am. In very next paragraph after the one he quoted, I argue that voting for the entire resolution does not endorse every possible plan. In fact, this argument is the reason I reject parametrics: if one example is enough to affirm the resolution, why do we need to narrow it down to the Affirmative plan? Parametrics is simply unnecessary.
I suspect the confusion arises from the structure of my original post. I spend the first half of it explaining the standard (flawed) arguments for parametrics, before turning around and explaining why it's wrong in "What everyone misses: The requirement of the resolution." This structure makes sense from a teaching standpoint, but it can be confusing if you don't read the entire thing.
Occam's razor and the parametric beard
Occam's razor is often stated as "entities must not be multiplied beyond necessity" (although these exact words do not appear in any of his works.) Basically, explanations shouldn't be more complicated than they need to be. Wikipedia gives a good example:
It is coherent to add the involvement of Leprechauns to any explanation, but Occam's razor would prevent such additions, unless they were necessary.
A similar principle applies to debate theory: Don't go for a complicated paradigm when a simple one works just as well. My personal rule - The Resolutional Bludgeon - states:
If you can resolve a problem with the resolution alone, do it.
In this case, since the resolution alone is enough to explain the proper behavior of teams in the round, we should reject parametrics automatically as an unnecessary layer of complexity.
Why prefer the resolution, though? Occam's razor again. If we go for another paradigm, we have to add in the resolution to explain topicality, et cetera. The resolution alone is much simpler than an alternate paradigm plus the resolution. Preferring it tends towards maximum simplicity.
Parametrics in parliamentary
At this point, it would seem that we are almost in agreement - there's nothing inherently wrong with the standard rezcentrism framework. Isaiah seems to believe that parametrics is necessary anyway. His primary argument for this stems from parliamentary debate:
As an experienced parli debater, I've used parametrics quite a few times and seen the application from resolutions like "mute the red phone" where you really need parametrics because every negative counterplan could potentially be construed to "mute the red phone".
This would be a persuasive argument for the application of parametrics - if "mute the red phone" was, in fact, a policy resolution. It's not.
Earlier, Isaiah makes this point for me:
The phrasing of policy vs. value ... has different logic requirements. A value resolution is usually phrased "x value is greater than y value". Here the "sum total" must be taken into consideration, so that an aff or neg wins by proving the rez is more true than false or more false than true. The phrasing of a policy resolution "X policy body should be changed" does not require proof that MORE policies should be changed than not, but merely that one should be changed ...
I would contend that "mute the red phone" has different logic requirements as well. While it implies a policy action, the resolution is intentionally vague and subjective. (It's a metaphor, not a specific range of policy options.)
To put this visually, policy resolutions are commonly depicted as a circle containing a range of options. Metaphor resolutions are more like a blob: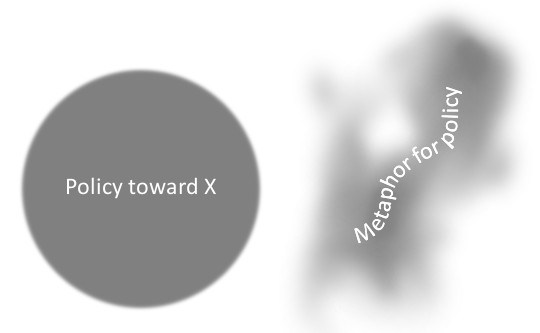 Some actions (like physically muting an actual red phone) are clearly topical. Other actions (like unilaterally abolishing our nuclear stockpile) are also clearly topical, but in a more vague, metaphorical way (you're not literally "muting" a red phone, just getting rid of it and what it controls.) Still other actions (like abolishing duck hunting) might also be topical, but only under extremely broad interpretations of the resolution.
All this means that, even if parametrics is necessary for vague parliamentary resolutions, that doesn't automatically make it necessary for not-so-vague policy resolutions.
I don't actually believe that parametrics is necessary for metaphor resolutions - you can achieve the same results with straight-up topicality. With any resolution - especially vague ones - there's a fuzzy continuum between "clearly topical" and "clearly nontopical". Where exactly the "topical/nontopical" dividing line falls in that continuum can be hotly contested in the round. The exact same standards and brightlines used to argue that a Government plan is nontopical can be used to argue that a counterplan is nontopical.
To illustrate how this works, suppose the Government team abolishes our nuclear stockpile, and the Opposition reduces it instead. Both the Government and the Opposition could theoretically be construed as "muting the red phone". What now? Argue topicality! For example, the Opposition could present the standard that, to "mute" something, you have to completely eliminate its effectiveness; reductions don't eliminate effectiveness, so the Opp isn't "muting the red telephone." (Cue reasons-to-prefer.) Problem solved, with pure topicality.
All this is to say that metaphor resolutions in parli don't justify parametrics in TP.
Why does this matter?
As I've said before, parametrics isn't about topical counterplans - that's just a side effect. It's the most noticeable side effect, however, and arguably the most important in the real world.
You might notice that I haven't delved into the pragmatic issues surrounding whether topical counterplans are "good" for debate. The short answer is "I don't know" - I can see persuasive arguments on both sides (see Isaiah's post for a good listing.)
Under the resolutional framework, however, running a topical counterplan logically leads to an Aff win, and whether or not topical counterplans are "good" doesn't change that. If topical counterplans were clearly the best thing since sliced bread, it might be worth creating an exception in our framework, but the issue isn't that clear.
Note: I'm using the term "topical counterplan" here, even though I realize that "topical" counterplans aren't technical "topical" under the parametrics framework... don't kill me, HSD.
A side issue...
In my original post, I used "morally-difficult plans like banning abortion" as an example of arguments that were banned simply because they were abusive, not because of a specific logical framework. Isaiah took issue with this:
I hotly disagree with this assumption. ALL positive good on a policy level has at its root a moral premise. The skill of debate is CHARACTERIZED by learning to break seemingly tough problems into respective pieces (i.e. don't argue "stealing babies is good", argue "their plan doesn't fix the problem"). From this perspective, all cases have morality at the root and a debater would be gaining little from Stoa/NCFCA debate if not learning to navigate the complexities of why we do what we do.
I'm not going to argue this, because it's completely beside the point. My original argument was simply that some things are inherently disallowed, even without a complex theoretical framework. (Punching your opponent in the face, as a less controversial example.) Whether or not abortion plans fall into this category is irrelevant to the logic of the point.
Regardless, there is a theoretical framework that works in this case - the resolution. We don't need to declare offtopic DAs "inherently disallowed", or parametricized away, to have a rational debate.
We now return you to your regularly scheduled programming.